! -- Facebook Pixel Code --> <! -- DO NOT MODIFY --> <! -- End Facebook Pixel Code -->
PART-TIME | WINNIPEG LOCATIONS
PERPP-NA
Personal/Professional Development
Courses and Descriptions
BUSA-9076

Virtual-Hybrid Leadership Fundamentals
The COVID-19 pandemic has greatly impacted the way people work and communicate. In this micro-credential course, leaders will examine the difference between virtual and hybrid work environments and how to adjust leadership styles and strategies for each. Leaders will learn how to communicate, collaborate, and engage with teams in a virtual or hybrid work environment. Leaders will acquire the knowledge, tools, and skills to lead, motivate, and build productive virtual and hybrid teams. Leaders will also explore how to create a cohesive team culture while leading virtual and hybrid projects and meetings.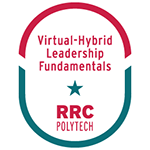 Course Overview
Duration: 20 hours.
Delivery: Online.
Credential awarded: RRC Polytech micro-credential in the form of a digital badge that can be shared online and with employers.
Learning Outcomes
By the end of this micro-credential course, students will be able to:
Explain how the workplace trends are shifting since pre-pandemic levels.
Describe how to communicate effectively as a leader.
Outline how to apply critical thinking skills to understand and address situations.
Discuss how to apply self-awareness and effective listening strategies to lead virtual and hybrid teams.
Analyze how to direct, motivate, and ensure accountabilities on teams in any setting.
Discuss how to provide constructive feedback to team members using a coaching approach in any setting.
Create a plan to build a cohesive team culture in any setting.
Apply SMART goals to achieve business objectives for virtual and hybrid teams.
Explain how to apply project management fundamentals in virtual and hybrid projects.
Plan how to lead effective meetings for any type of audience.
Plan the delivery of an engaging presentation in virtual and hybrid situations.
Discuss a leader's role in how to promote work-life balance in virtual or hybrid work environments.
Textbooks and Booklists
This course is presently not being offered by this program. Please check back later.
Page produced on 2023-09-26 07:48:35
Red River College Polytechnic endeavours to provide the most current version of all program and course information on this website. Please be advised that classes may be scheduled between 8:00 a.m. and 10:00 p.m. The College reserves the right to modify or cancel any course, program, process, or procedure without notice or prejudice. Fees may change without notice.